In 2020, due to the impact Covid-19 was having on the mental and physical wellbeing of children, and following discussions with the children's commissioner plus education and healthcare professionals, it was agreed that The Bosdet Foundation would utilise the facilities at Les Ormes to provide a summer activity camp for those considered to be most vulnerable. 
Camp Bosdet is free to attend. Children are referred to the programme through schools or social services because they have a specific need or have been disadvantaged in some way.
Summer Camp Bosdet at Brig-y-Don
The 2022 summer holidays have seen excited youngsters enjoying the fantastic new base camp at Brig-y-Don House in St Clement. The house has extensive grounds, prepared for the summer camp by volunteers, and has direct access to the beach.
The Bosdet Foundation is also delighted to be working again with the Philip Gower Charitable Foundation to offer weekend residential activities for key stage three children 11 to 13 years old who have been nominated by schools and other organisations. Over the weekends, young people went kayaking, surfing, snorkelling, beach Olympics, fire making, decorating rocks, making shell mobiles and wind chimes, swimming, treasure hunts, scavenger hunts, plus decorating ceramic tiles which will be put upon the walls of the garden as a record of their achievements and attendance.
Along with onsite fun - including raft and tent building, games and evening camp fires - youngsters also enjoy offsite activities with Jump Jersey, snorkelling at Bouley Bay, surfing, rib rides with dolphin spotting plus kayaking with Kayak Nomad. 
During the beautiful warm evenings, youngsters have enjoyed songs and games around the campfire and making S'mores: marshmallows are roasted over the campfire until they're gooey. Then biscuits and chocolate are used to sandwich the gooey roasted marshmallow.
At the end of each week, it's reflection time: youngsters talk with team leaders about their 'Rose' (favourite part of the week); 'Thorn' (something they found tricky); 'Bud' (something they learnt or made them grow as a person). 
Early morning swims were followed by hot chocolate and marshmallows prepared by the youngsters using a storm kettle. It works by lighting a small fire at the base which warms up the outer chamber to boil the water.  
Snorkelling at Bouley Bay is certainly a favourite weekly activity. 
BRIG-Y-DON EASTER 2022
Having leased Brig-y-Don House from Brightly Charity for five years, the first camp was held at its new base over the Easter break. 
Youngsters slept in bunk beds kindly donated by Romerils, and enjoyed a full programme of activities which included kayaking with www.kayak-nomad.com, rockpooling, crafts, cooking, swimming and much more.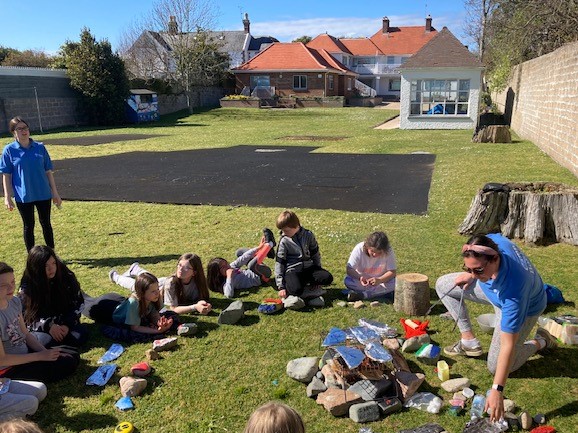 Summer 2021 saw not only the continuation of the successful Camp Bosdet for primary school children but also the introduction of a camp for older children. Senior camp was based at the Scout Centre in St Ouen with many children opting to sleep over. Activities included field games, surfing, coasteering, nature walks, rock climbing. kayaking with www.kayak-nomad.com, body boarding, abseiling and of course evenings around the camp fire. 
CAMP BOSDET EASTER 2021
As part of Camp Bosdet 2021, there needed to be somewhere for children to connect with nature in a safe environment.
An area of wasteland at Les Ormes was quickly transformed into a Woodland Wonderland by volunteers which included a volunteer group from EFLO (Education Fund for Luweero Orphans) - EFLO is essentially an overseas aid charity but were quick to offer help locally.
Pictured below: Colin White and the team from EFLO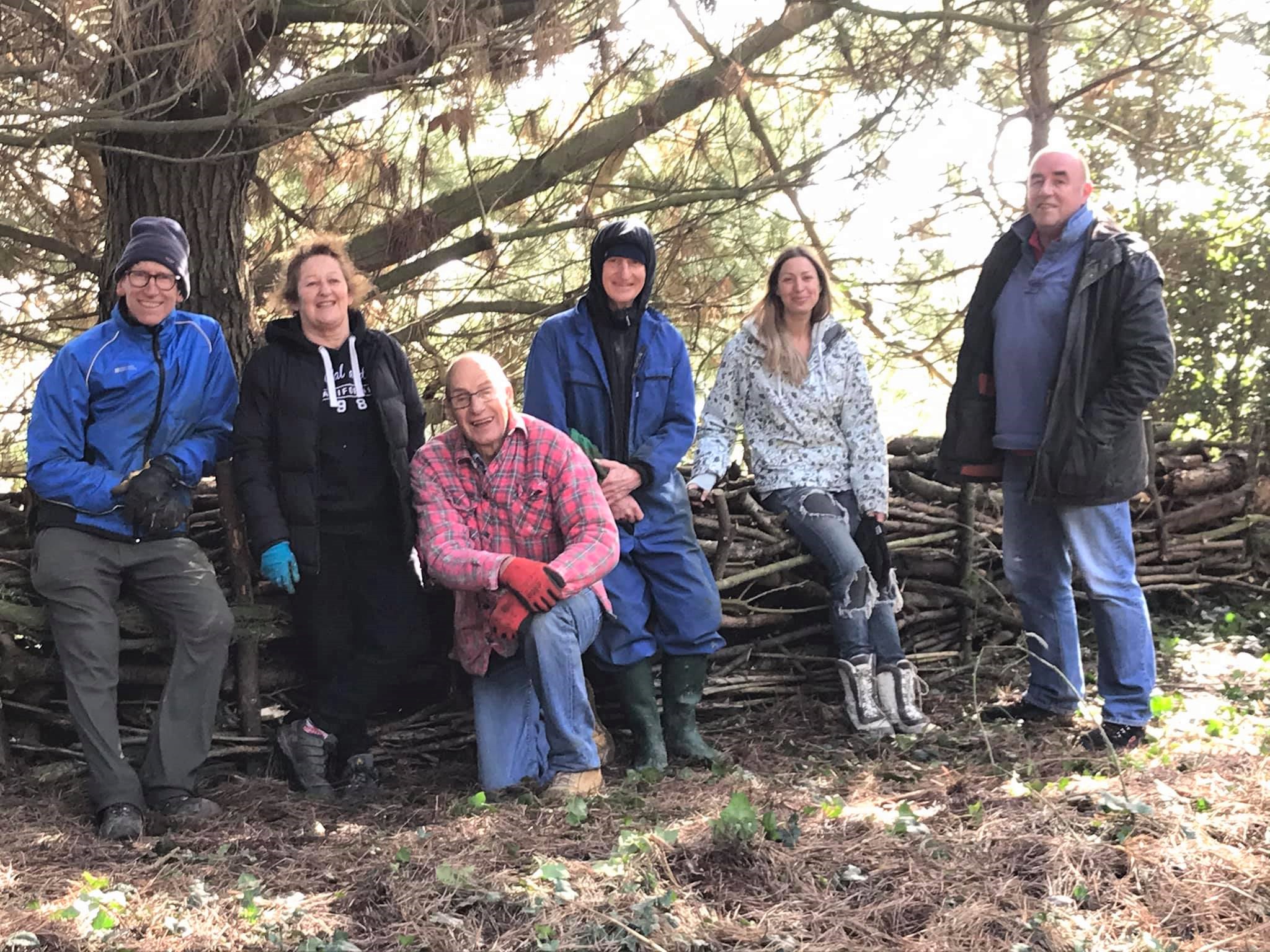 ROK Construction stepped forward on day one to offer not only advice but operators for the machinery kindly supplied by 4Hire Jersey.
Pictured below: Work underway clearing paths and Alan Le Pavoux with Neil Langton of ROK Construction.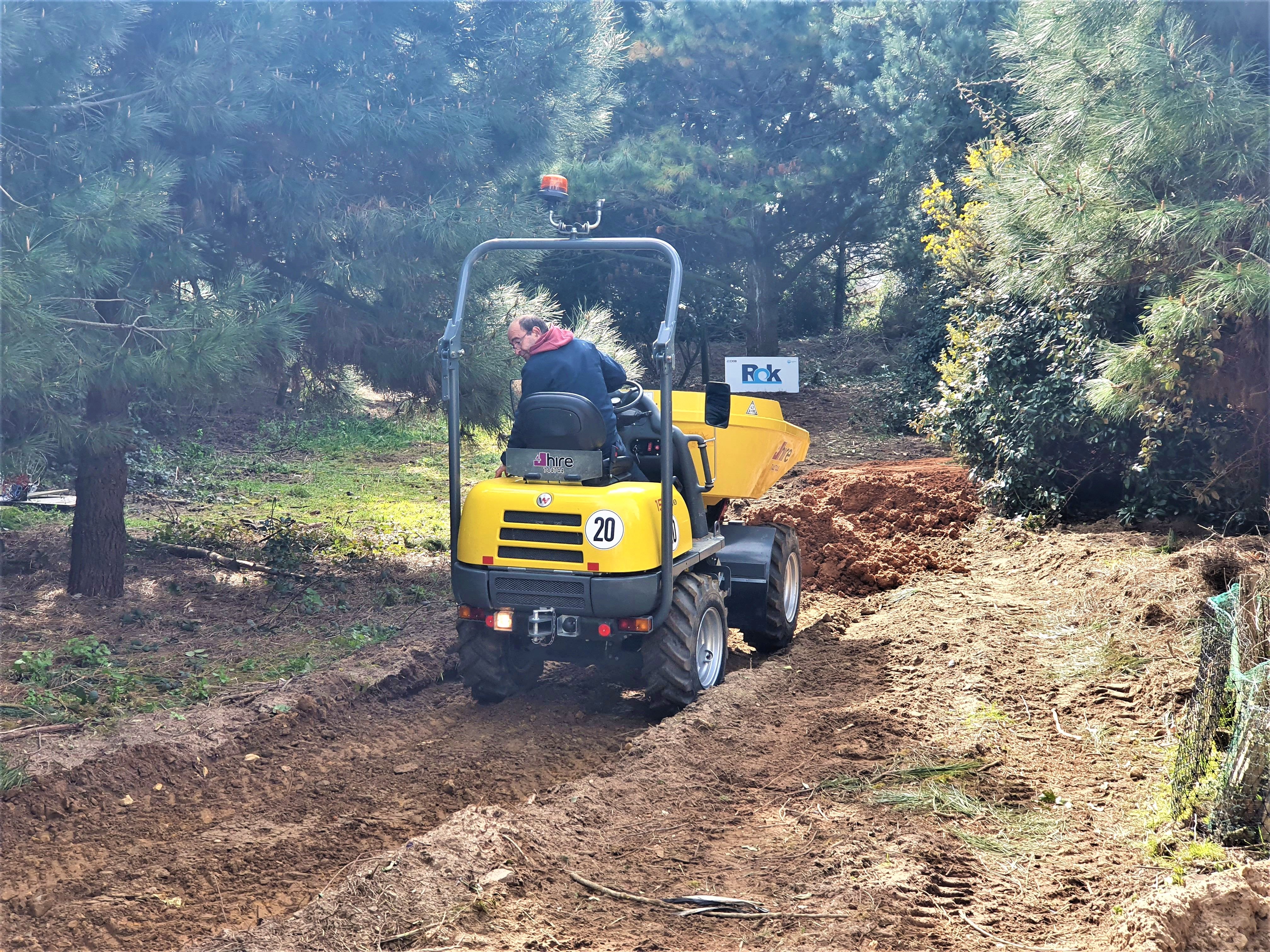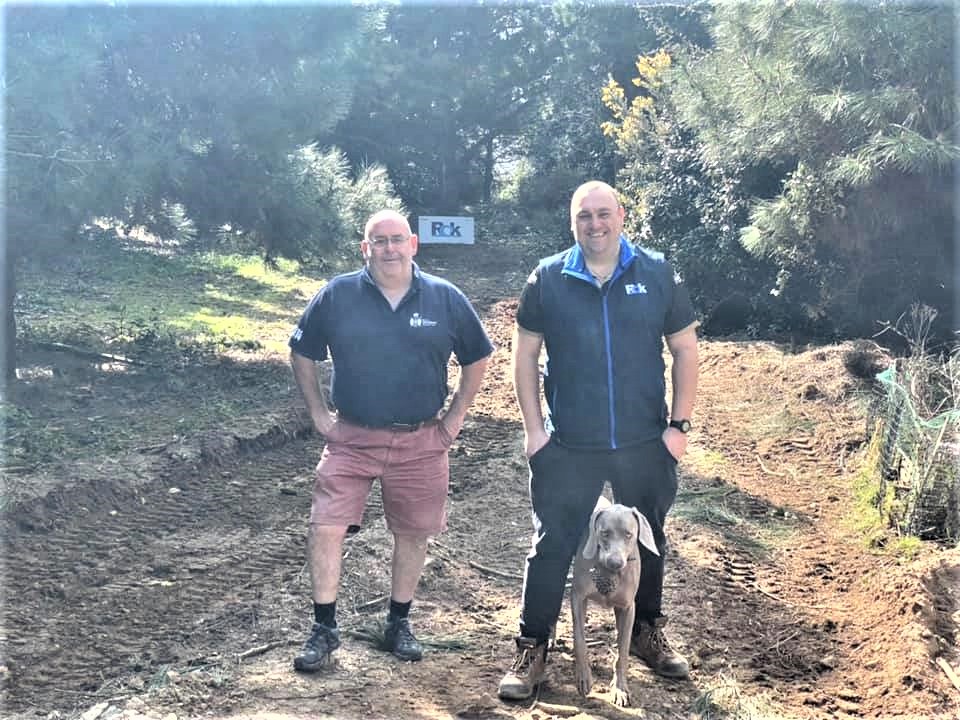 Easter 2021: Camp Bosdet welcomed children to an Easter break filled with fun and educational activities. The new woodland area proved to be a massive hit with mini adventurers. Woodland activities included nature craft (making shelters for insects and birds), building shelters, making camp fires. 
It may have been chilly over the Easter break but the sun was shining and great fun was had rock pooling and paddling. 
Other Easter activities included arts and crafts, geocaching, ball games and fun at Jump Jersey.
CAMP BOSDET 2020
Over the summer of 2020 children were treated to themed activities which included survival skills, nature trails, arts and crafts, cycling, boating, kayaking plus many were thrilled to learn to swim in the sea safely. 270 trips were arranged to a diverse range of places including heritage and cultural sites. 
Working with Centre Point, we utilised two of their minibuses to provide transport. We also had support from Kevin Mansell for some adventurous activities and from Chris Rondel of the Youth service providing Bell Boat trips at St Aubin's Fort
The summer ended with a colourful carnival parade around the grounds of Les Ormes and an afternoon of party games.
.
How is the camp funded?
Les Ormes gives use of its facilities, including Jump Jersey, free of charge.  The Bosdet Foundation covers costs of employing and training young people for the duration of the camp. The Foundation also provides trips, lunches, snacks and drinks to all children.